02 Aug 2022
PCFA
TAB throws support behind prostate cancer with the Critical Catch Campaign
TAB has joined forces with Prostate Cancer Foundation of Australia (PCFA) to launch a new awareness campaign that aims to catch prostate cancer before it catches men.
Critical catch - Catch prostate cancer before it catches you encourages men to get to know their prostate cancer risk and get tested to help detect the disease early.
More than 18,000 Australian men are diagnosed with prostate cancer each year, but only 36 per cent are diagnosed at Stage 1, when the disease can be treated more effectively. 
TAB spokesperson Gavin Barlow said they're proud to launch Critical Catch and continue their long-term partnership with PCFA. 
"Prostate cancer is something that unfortunately affects a large amount of our customers. That is why this partnership means so much to us and why it is valuable to launch a campaign encouraging blokes to start the tough conversations and really think about their need for further action."
To activate the campaign, TAB held the Ultimate Catching Challenge at Jubilee Oval in Glebe on Friday June 17, raising $100,000.
The event, led by TAB Ambassador Shane Crawford, saw participants attempt three catching challenges, with $500 from every successful catch donated by TAB to PCFA.
Prostate Cancer Foundation of Australia CEO Anne Savage commended the campaign.
"We're incredibly proud to partner on initiatives such as this one to save lives.
Earlier detection of prostate cancer is absolutely key to survival of the disease. We need to do everything we can to raise awareness so that men detect prostate cancer before it spreads to other parts of the body.
Critical catch is a game-changing campaign to get men on their feet to take action.
While survival rates have drastically improved over the past 30 years, over 3,300 Australian men die from the disease each year.
We're proud to work in partnership to protect men against late diagnosis of prostate cancer."
For more information about PCFA, or for support, visit www.pcfa.org.au or call 1800 22 00 99.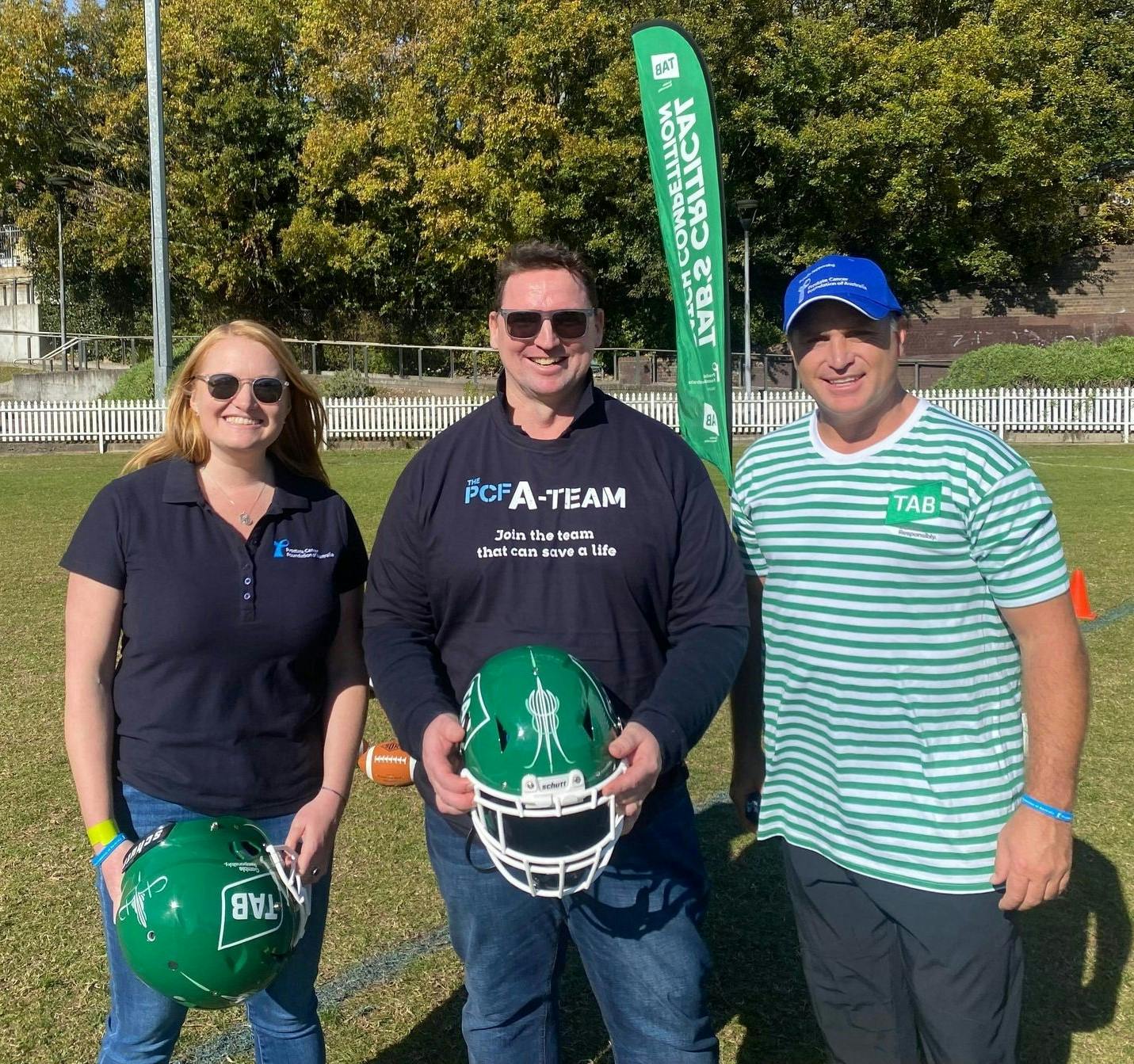 The PCFA Team with Shane Crawford on the day.